APPU OIL - Manufacturer, Supplier and Exporter of Sesame Oil(तिल का तेल) at reasonable prices in Ahmedabad, India With a leading name in Sesame Oil Manufacturer Industry, we provide you with best quality products for all types of Sesame Oil requirements.
Manufacturer of Sesame Oil – Appu Til Oil, Sesame Oils, White Sesame Oil, and groundnut oil without refined offered by Appu Oil. Appu Oil is bracketed with the uppermost Sesame Oil Manufacturer, exporter &Supplier from Ahmadabad, Gujarat. We build available superior-quality Til Oil which is extracted from top-quality sesame seeds using earliest Kachi Ghani procedure. The Appu oil offered Sesame Oil by us is respected for its enormous flavor, cleanliness, and huge shelf-life. We provide our Sesame Oil in various covering sizes and at very much reasonable prices. Also, we can procedure for bulk orders on demand.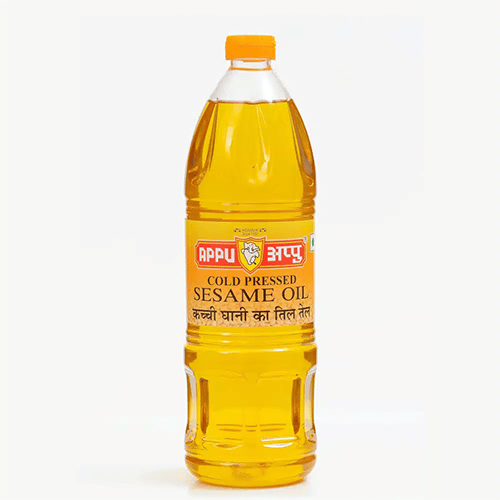 The most excellent cooking medium which makes food delicious and tasty.
Best Baby massages oil to make stronger the skeleton.
Used in Ayurvedic medication.
And also it is the most excellent for hair oil base.
Sesame Seed Oil Manufacturer, Exporter & Supplier
Sesame seed oil or Til oil is extracted on or after the seeds of sesame. It is a lesser-known but recovered option to vegetable oil. The small yellowish-brown seeds of sesame are found above all in the Indian subcontinent. The oil has been a part of the Indian kitchen for many years and is now thorough into western culture caused by its frequent health remuneration.
Sesame Oil (also popularly known as Til Oil) is safe to eat vegetable oil derived from sesame seeds. Moreover being used as a cooking oil in South India, it is often used as a taste enhancer filtered edible oils Supplier & Exporter in Australia, Canada, Kenya, Uganda, Sri Lanka, India. Sesame oil from the nutrient well-off seed is popular in unusual medicine – from traditional massages and treatments to the present day.
Avoid from contact with eyes, inner ears, and responsive areas.
remain away from children.
If pregnant or nursing, discuss with your doctor.