Appu Oil is the leading Manufacturer of Black Sesame Oil based in Ahmedabad, India that are extremely pure. We are offering superior quality of Black Sesame Oil Manufacturer in Ahmedabad, Gujarat, India. Get the Best Black Sesame Oil Manufacturer Products Now!
Rich-grade Black Sesame Oil is manufactured and exported by Appu Oil. Their traditionally chosen, nutrient-rich black sesame oil has earned them a reputation around the world. Black sesame seeds have a spherical form, are opaque in colour, and have a nutty flavour. High oil content may be found in black sesame seeds. They contain a tonne of nutrients. Comparatively speaking, they have more antioxidants. The oil that may be extracted from black sesame seeds has various health advantages. They are sprinkled on vegetables, noodles, or appetizers as a garnish. Black Sesame Oil powder has a powerful flavour and taste. Even many ailments may be treated with black sesame oil.
Black Sesame Oil Manufacturer
Leading Black Sesame Oil Manufacturer in Ahmedabad, Gujarat. For thousands of years in Indian culture, we have used sesame oil for many different purposes and not just as cooking oil. Moreover, In Ayurveda, Black sesame oil is much valued for its medicinal properties. It is good for the skin, hair and melts extra fat in our body.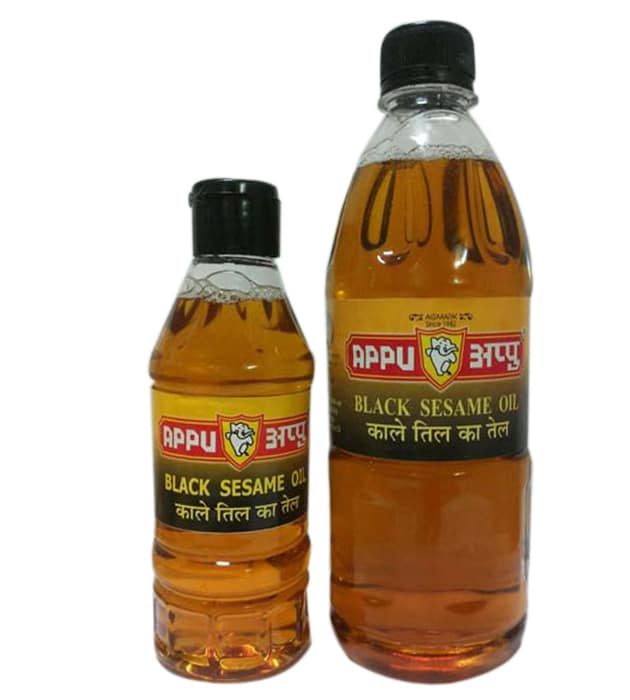 Massage therapy is a wonderful way to utilize it, as it penetrates deep into the skin, providing nourishment and helping to relieve stress. Black sesame oil has one of the richest antioxidant contents among plant oils and has been used in the ancient Indian Ayurveda tradition for thousands of years for health treatments of the body. The oil from black sesame contains antifungal, antibacterial, antiviral, as well as anti-inflammatory properties.
Tag – Cold Pressed Black Sesame oil, Black Sesame Oil Manufacturer, Sesame Oil Manufacturer in Gujarat