Groundnut Oil Manufacturers India — Appu Oil is one of a leading Groundnut Oil Manufacturers and Groundnut Oil Suppliers in Ahmedabad, India. Appu Oil is the best quality of the raw Groundnut seed is used in the Groundnut Oil Manufacturing at market leading price.
Leaders of Groundnut oil as we are a manufacturer, supplier, and exporter in Gujarat, India. To manufacture groundnut oil, we employ the highest quality raw ingredients, which are obtained from reputable suppliers in the sector. The allergenic protein component of Groundnut oil is removed through refinement, bleaching, and deodorization, much like with all other processed vegetable oils. Our oil has a rich, natural nutty scent with a strong flavour. Additionally, the groundnut oil we offer has a special anti-foaming property that guarantees both the oil's long shelf life and the long shelf life of any cooked or fried dish. Specialized tools and procedures are required to obtain high-quality filtered groundnut oil without the use of chemicals. We provide you with double-filtered, 100% natural groundnut oil that has been quality-checked.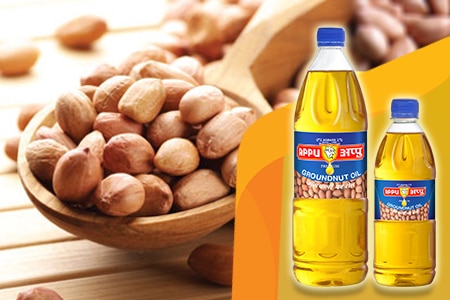 Groundnut Oil Manufacturers in Gujarat
Unfiltered groundnut oil has been extremely popular in India for generations. With an annual production of over 2 million tones, India is now the world's third largest producer of groundnut oil. Gujarat, Andhra Pradesh, Tamil Nadu, and Karnataka are the country's top producers, accounting for nearly 68% of total production. Appu Oil is one of the best brands and most prominent groundnut oil suppliers in India, among the many names in the edible oils segment. 
We provide top-notch groundnut oil prepared from the finest groundnut seeds. Our facility is entirely hygienic, and we process our Groundnut Oil in accordance with the guidelines established by the food and beverage sector. We make sure to package our groundnut oil securely and airtight in order to maintain its natural quality and nutritious qualities. We are a well-known Gujarati manufacturer and supplier of groundnut oil. To place an order, please contact us.
Applications of Groundnut Oil
The most common cooking medium is groundnut oil.
It gives the lot of vitamins & proteins to the food. "APPU GROUNDNUT OIL" is pure hygienic cooking oil.
Features of Groundnut Oil
Type: Edible Ground Nut Oil
Brand Name: APPU
Use: Cooking
Certification: Agmark
Product Type: Groundnut Edible Oil
Processing Type: DOUBLE FILTERED OIL
Place of Origin: AHMEDABAD
Packaging: 100ml , 200 ml, 500ml,1 ltr , 5ltr , 15 kg