Appu Oil is recognized and demanded brand in the Oil manufacturing market as a leading Groundnut Oil, Cold Pressed Groundnut Oil, Kachi Ghani Groundnut Oil Manufacturer, Supplier and Exporter in Gujarat, India
Also known as Peanut Oil and is generally ideal for cooking or frying goods and is derived from Groundnuts. Kachi Ghani Groundnut oil is a naturally sweet and flavorful edible oil that has long been favoured as a cooking oil in Indian families. The without refined groundnut oil is light yellow in colour and has a neutral flavour. It has a high energy content, a high burning and smoking point, and monounsaturated fats as well as vitamins A, D, and E. We are one of the leading Groundnut Oil Manufacturer and supplier in Gujarat, India.
Unfiltered groundnut oil has been extremely popular in India for generations. With an annual production of over 2 million tones, India is now the world's third largest producer of groundnut oil. Gujarat, Andhra Pradesh, Tamil Nadu, and Karnataka are the country's top producers, accounting for nearly 68% of total production. Appu Oil is one of the best brands and most prominent groundnut oil suppliers in India, among the many names in the edible oils segment.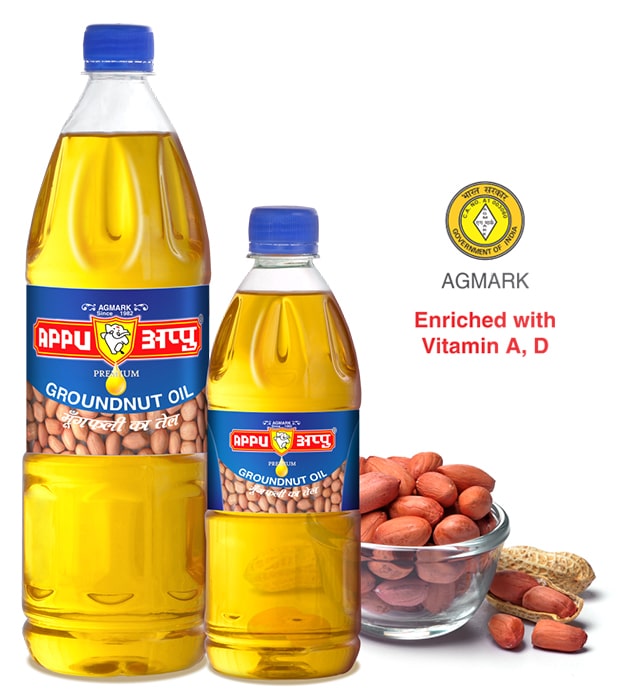 We offer good quality Groundnut Oil that is made from the best Groundnut seeds. Our Groundnut Oil is processed at our completely hygienic facility and in conformity with the standards as prescribed by food and beverage industry. To preserve its natural quality and nutritive properties, we ensure safe and sealed packaging of our Groundnut Oil. We are a prominent Groundnut Oil Manufacturer and Supplier from Ahmedabad, Gujarat. Contact us for placing order.
Application:  Groundnut Oil
Groundnut Oil is mostly used in cooking as a cooking media.
It gives the lot of vitamins & proteins to the food. "APPU GROUNDNUT OIL" is pure hygienic cooking oil.
Features of Groundnut Oil
Type: Edible Ground Nut Oil
Brand Name: APPU
Use: Cooking
Certification: Agmark
Product Type: Groundnut Edible Oil
Processing Type: DOUBLE FILTERED OIL
Place of Origin: AHMEDABAD
Packaging: 100ml , 200 ml, 500ml,1 ltr , 5ltr , 15 kg