Mustard Oil: Manufacturers, Suppliers & Exporters In Gujarat — Appu Oil is one of the only largest Mustard Oil Manufacturers in Gujarat. Appu Oil is one of India's leading suppliers and exporters of Mustard Oil.
Maximizing on our sophisticated manufacturing and processing unit, we offer excellent quality Mustard Oil to buyers all over India. We produce our Mustard Oil from carefully selected natural mustard seeds. The kachi ghani process (cold process) is used in the production that helps in maintaining its natural oil quality and nutritive properties. We are a renowned Mustard Oil Manufacturer and Supplier from Ahmedabad, Gujarat. We provide our Mustard Oil in properly sealed packaging and at economical prices.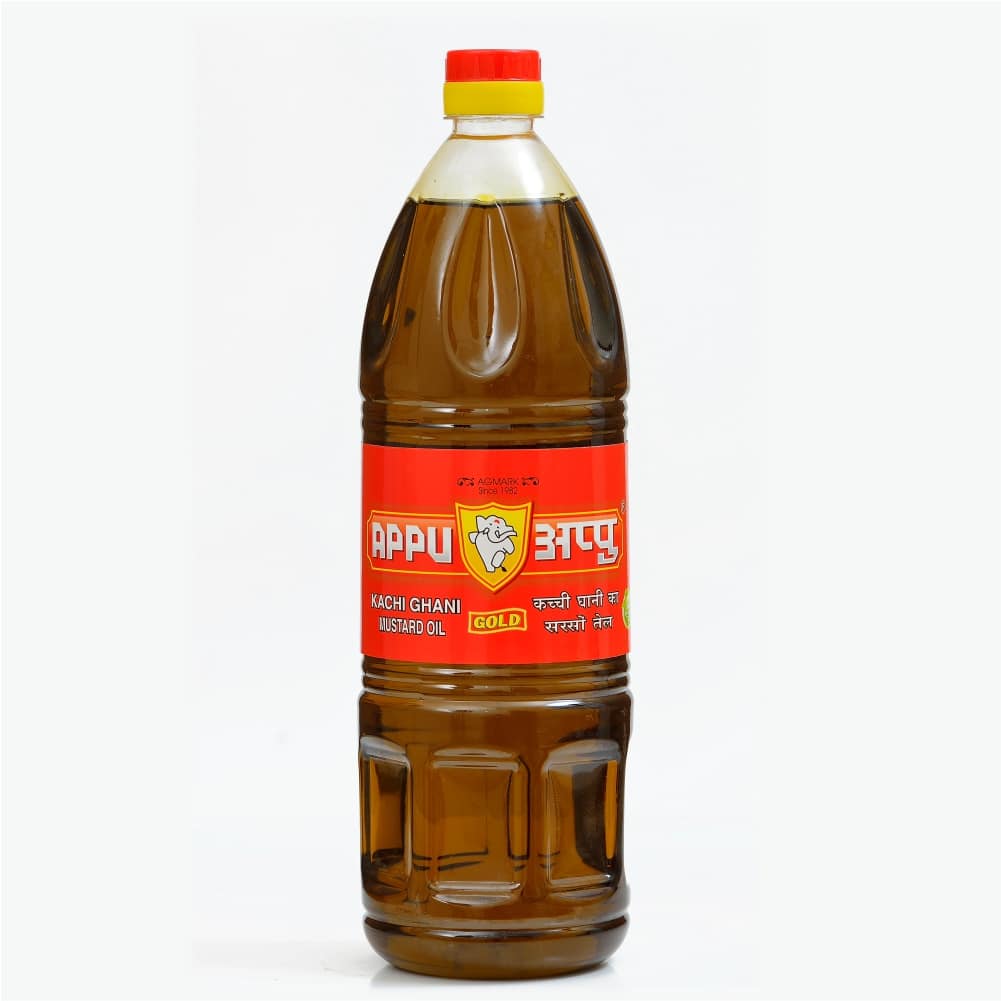 Applications of Mustard Oil
Cooking Medium: It is low-fat oil as the best cooking medium which makes food tasty and delicious.
Used in pickles: Pungent Mustard Oil is also used in pickles as a preservative to maintain its quality and taste 8+7 throughout the year.
Ayurvedic medicine: Ayurvedic has accepted pungent Mustard oil as the best massage oil. It is also mixed with other oils & medicines as per requirement and application. Regular body massage of pungent mustard oil gives softness & shining to the skin. "APPU MUSTARD OIL" is the best pungent mustard oil.
Mustard Oil Manufacturer From Ahmedabad
Appu Oil is a well-known Mustard Oil Manufacturers, Mustard Oil Exporters and Supplier of Mustard Oil and offering an excellent range of Pure Mustard Seeds Oil, Refined Corn Oil, Fresh Sunflower Oil, Castor Oil, Mustard Oil, and Pure Castor Seed Oil at best Price. Our mustard oil is extracted from quality mustard through advanced processing technique. We top our clients list because of pungent odour and natural properties because it further helps in stimulating appetite and also has other benefits. Our mustard oil also has antioxidant, cholesterol reducing and essential vitamins. We have separated our infrastructural facility into several units and one of them is the warehouse for maintaining high-quality standards. We have an online payment processing system to avoid any security issues. Our Mustard Oil is processed by using modern technology and effective natural mustard seeds. It is prepared by crushing mustard seeds in a wooden kolhus and then manufactured in a step by step process in a well-equipped laboratory, whose sole purpose is dedicated to manufacturing edible mustard oil.