Appu Oil is Indian origin best quality Sesame Oil Manufacturer in Gujarat. We are recognized and best sesame oil brands in India.One of our Popular Product Manufacturer Exporter Producer Supplier of Black Sesame Oil, Sesame oil and cold pressed sesame oil.
We are bracketed with the top Sesame oil Manufacturer and Suppliers from Ahmedabad, Gujarat. We offer high-quality cold-pressed til oil that is extracted from hand-picked sesame seeds using the ancient Kachi Ghani (Cold) Method. Our sesame oil is valued for its excellent flavour, purity, and long shelf life. Our black sesame oil is available in a variety of packaging sizes and at very reasonable prices. On request, we can also process bulk orders.
Sesame oil, also known as gingerly or til oil, is one of the oldest crop-based oils in the world, extracted from sesame seeds. Sesame seeds, interestingly, have the highest oil content of any seed. This helps to explain why extracting this oil is so difficult. When the seed is fully ripe, it bursts and is used as a condiment in cooking.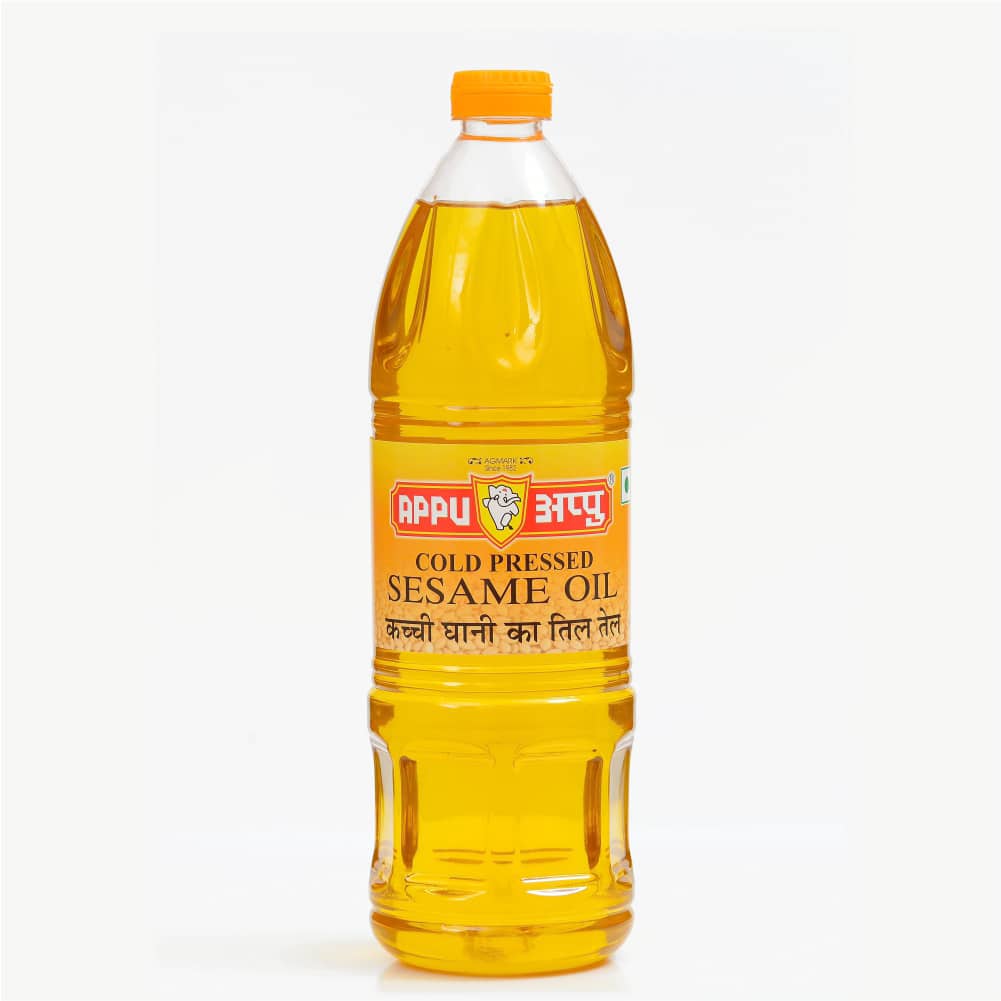 Sesame seeds/Black Sesame Seeds are grown organically and then extracted using the traditional cold-pressed sesame oil method to produce pure and healthy cold-pressed sesame oil (also known as Gingerly Oil or Til Oil) in the good old days. The cold press method preserves the nutrients in the oil, making it antioxidant-rich and nutrient-dense.
We are bracketed with the top most Sesame Oil Manufacturer and Supplier from Ahmedabad, Gujarat. We make available good quality Til Oil which is extracted from handpicked sesame seeds using ancient Kachi Ghani process ( cold process ). The oil offered by us is appreciated for their great taste, purity and great shelf-life. We provide our Sesame Oil in various packaging sizes and at highly affordable prices. Also, we can process bulk orders on request.
Applications of Sesame Oil
Best cooking medium which makes food tasty and delicious.
Best Baby massages oil to strengthen the bones.
Used in Ayurvedic medicine.
Best for hair oil base
Brand Name: Appu
Product Type: SESAME SEED OIL ( EDIBLE )
Usage: Cooking And Massage
Packaging: 100, 200, 500, 1000, 5000 ML And 15KG
Production Capacity: 5 Tons Per Day