Cold Pressed Mustard Oil Manufacturers
Cold Pressed Mustard Oil | Cold Pressed Mustard Oil Manufacturers in India
Shree Western G & C Ind. is an Indian company that is the leading specialist manufacturers of high quality cold pressed oils, Cold Pressed Mustard Oil in Ahmedabad, India
Appu Oil, an Indian edible oil company presents Cold Pressed Mustard Oil (Sarso Oil) which is extracted from mustard seeds (black, brown, and white), this method was used by ancestors, and is reddish-brown or amber in colour with purity, freshness and numerous health benefits.
In India, it's difficult to imagine life without a bottle of Sarson Oil at home for cooking because it has miraculous properties. Treating colds, boosting immunity, encouraging hair growth, providing skin nourishment during the winter, improving oral health, and so on are various benefits being provided by leading manufacturer and supplier of cold pressed mustard oil.
Switch to Appu Oil Cold Pressed mustard oil today to move towards a healthy future.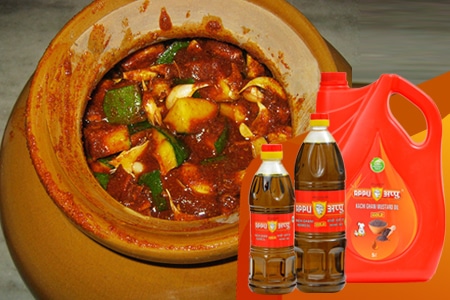 Cold Pressed Mustard Oil Manufacturing Process
Ethically Sourced
Sun-dried
Kolhu Pressed
Sieve Filtered
Quality Checks
Packaging
Cold Pressed Mustard Oil Applications
Skincare: To make your skin smooth and radiant, apply a few drops of mustard oil to it and rub it in.
Strengthens Hair: To condition your hair, apply mustard oil to your scalp and dry hair.
Helps Clear Congestion: To clear congestion, add a few drops of mustard oil to the water and inhale the steam.
Oil Pulling: To kill bacteria and prevent gum bleeding, swish mustard oil for about 20 minutes.
Massage: Massage your body gently with mustard oil to relieve pain and relax you.
Cooking Oil: It gives your dal and curries a fantastic flavour. Also used as a natural pickle preservative.
Cold Pressed Mustard Oil Benefits
Assuring that the natural properties and health benefits are preserved.
It is cold-pressed from the highest quality mustard, preserving all of the mustard's natural properties and health benefits.
Mustard oil has numerous other health benefits.
Because it is enriched with important nutrients, our Appu Oil mustard seed oil is ideal for cooking healthy dishes.