We at Appu Oil feel proud of being a prominent company as 100% Pure Kalonji Oil Manufacturers in Ahmedabad-India at a market-leading price.
Kalonji oil is also known as Black Seed Oil which is used in making foods. Nigella sativa /Black Seed (black caraway, also identified as kala jeera, black cumin, kalonji, and nigella) is an annual blossoming plant in the family Ranunculaceae, native to the Indian Subcontinent and West Asia. Kalonji Oil is a plant, that people have used the seed to create medicine for over 2000 years. The seeds of black seed /Nigella sativa are used as a spice in Indian and Middle Eastern cuisines, and also in Polish cuisine. The black seeds taste like a mixture of onions, black pepper, and oregano. They have a pungent, sour flavor and stink.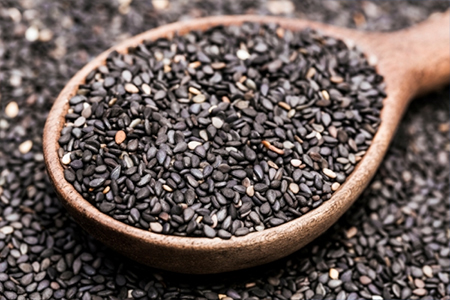 Kalonji Oil: The Natural Remedy for a Wide Range of Health Issues
Kalonji oil is a natural remedy that has been used for centuries to treat a variety of medical conditions. This oil is rich in antioxidants, anti-inflammatory compounds, and essential fatty acids and is extracted from the seeds of the Nigella sativa plant.
Thymoquinone, one of the most important active compounds in kalonji oil, is known for its anti-inflammatory, anti-cancer, and antioxidant properties. Nigellone is another active compound found in kalonji oil manufacturer that has anti-inflammatory and anti-spasmodic properties. Kalonji oil is also high in minerals like iron, zinc, and potassium, as well as vitamins like vitamin E.
Kalonji oil is composed of a variety of chemical constituents that contribute to its medicinal properties. Some of the main constituents of kalonji oil include:
Thymoquinone, a key constituent of kalonji oil, is well-known for its anti-inflammatory, anti-cancer, and antioxidant activities.
Nigellone: This substance, which is also an active ingredient in kalonji oil, has anti-inflammatory and antispasmodic activities.
An essential fatty acid called linoleic acid is crucial for keeping skin healthy and reducing dryness and irritation.
Monounsaturated fatty acid oleic acid is crucial for keeping skin healthy and reducing dryness and irritation.
Saturated fatty acid palmitic acid is crucial for preserving good skin and avoiding dryness and irritation.
Another saturated fatty acid that is crucial for keeping healthy skin and avoiding dryness and irritation is stearic acid.
Kalonji oil, also known as Nigella sativa or black seed oil, is used for a wide range of health benefits. Kalonji oil is frequently used for the specified objectives:
Anti-inflammatory: Kalonji oil has anti-inflammatory qualities that may assist with diseases including arthritis, asthma, and eczema by reducing pain and inflammation.
Antioxidant: Kalonji oil is a great source of antioxidants, which aid in defending the body from the harm that free radicals may do.
Anti-cancer: Kalonji oil has anti-cancer qualities and could aid in reducing the growth and multiplication of cancer cells.
Diabetes: Kalonji oil can help diabetics increase their insulin sensitivity and lower blood sugar levels.
Hypertension: Kalonji oil can assist to decrease blood pressure and enhance cardiovascular health in people who have hypertension.
Digestive Health: Kalonji oil can help in digestion improvement and decrease bloating and constipation symptoms.
Hair Care: Because kalonji oil encourages hair growth, stops hair loss, and lessens dandruff, it is utilized in hair care products.
Skin Care: Kalonji oil is utilized in skin care products as it helps to improve skin tone and texture while reducing the appearance of wrinkles, fine lines, and dark spots.
It is important to note that the benefits indicated above are based on conventional and complementary medical procedures, and additional study is required to substantiate the claim. Additionally, it is usually advised to get medical advice before utilising a new supplement or treatment.
Q: How do I use kalonji oil?
A: Orally, topically, or in hair and skin care products, kalonji oil can be taken orally or applied topically. Consult with a healthcare professional for dosage and usage recommendations.
Q: Is kalonji oil safe for everyone to use?
A: Kalonji oil is generally considered safe to use by most people. In pregnancy or breastfeeding, it may interact with certain medications. Kalonji oil should only be used after consulting with a healthcare professional.
Q: Where can I buy high-quality kalonji oil?
A: Reputable manufacturers, health food stores, and online retailers sell high-quality kalonji oil. A pure and preservative-free oil is important.