Cold Pressed Mustard Oil Manufacturers & Suppliers in India
APPU Mark Cold Pressed Mustard Oil, India's most trusted Agmark certified brand since 1982, With a proven track record spanning more than 40 years in Mustard Domain. Shree Western G & C Ind. manufacturing and supplying Cold Pressed Mustard Oil along with details of Cold Pressed Mustard Oil importers and buyers. The avg. market price of Kachi Ghani Mustard Oil, Cold Pressed Mustard Oil in India is available in 1 Litre/5 Litre Bottle, 500 gm Pouches, 15kg/L Tin, etc. Our company is one of the main Indian Mustard Oil Company makes 100% quality Cold Pressed Mustard Oil suppliers, exporters, manufacturers, and buyers of Cold Pressed Mustard Oil in India and overseas.
Appu Oils is an Indian company that is the leading mustard oil specialist manufacturer of high-quality cold pressed oils, Kachi Ghani oils, and using fresh Indian grown produce.
We are able to provide you with consistent, high-quality cold pressed oil goods and services because of our broad and distinctive product offering, cutting-edge press and filtration equipment, and unmatched technical capabilities.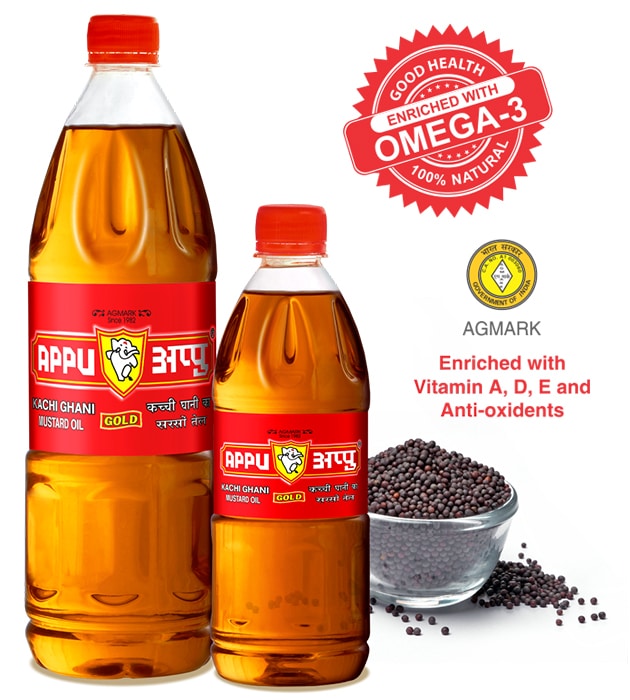 Cold Pressed Mustard Oil suppliers
Product Specification
Brand
APPU
Type
Mustard
Oil Type
Cold Pressed, Mustered
Form
Oil
Packaging Type
Plastic Bottle, Jar
Usage/Application
Cooking
Packaging Size Available
100ml, 200ml, 500ml, 1ltr, 5ltr, 15kg.
Types of Cold Pressed Mustard Oil
Cold Pressed Edible Oil, Cold Pressed Peanut Oil, Cold Pressed Groundnut Oil, Cold Pressed Sesame Oil, Cold Pressed Til Oil
The best-grade mustard seeds and contemporary additive technologies are used to prepare the provided oil in accordance with industry standards. Our quality specialists analyze the oil we give against a variety of criteria in order to preserve its quality.
Appu Oil is one of the leading products in India. Our primary goal is to provide our consumers with the greatest items possible, with an emphasis on producing goods of the finest quality. Having vast experience in the field of trading, our company has been registered addressed at Appu Oil, Gidc, Naroda, Ahmedabad, Gujarat, India. Our primary (main) Mustard Oil manufacturing industry is in Naroda.